KillaNet Navigator Version 1.0
By Alexander Dawson
KillaNet Navigator is the ultimate way to experience KillaNet Technology and all it has to offer. Alexander has been working on this program so that KillaNet's users will be able to access all of the services and websites easily and quickly, integrating them into a carefully developed application that is fast, stable and uses Mozilla Firefox's popular v1.0 browser engine. When this program is complete, it will provide full access to the Network with its range of exclusive features all centralised around KillaNet's ever growing popular service.
Aims Of Service:
To provide a GUI where people can login to the main service and subscribe to any of KillaNet's services.
To give users access to exclusive content and enable all of the services available to members for use.
To make accessing and browsing the websites and the KillaNet network easier and more productive.
To provide services linked with KillaNet beyond the websites themselves with bonus built in software.
To enable the people who use the service to take advantage of ALL of the services offered by KillaNet.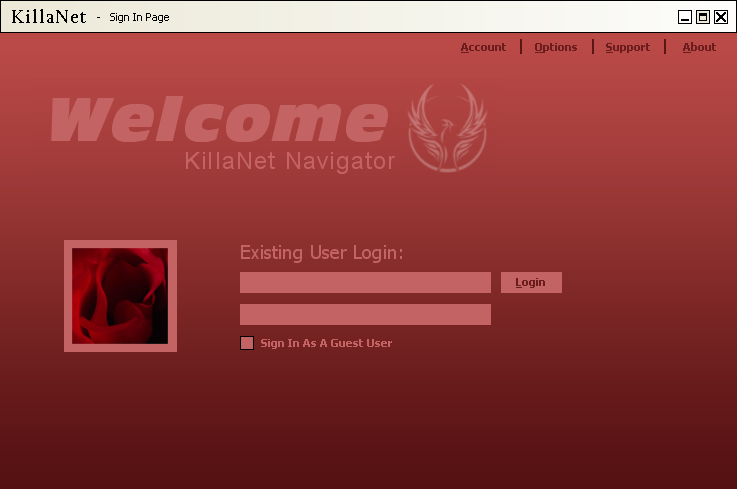 What's New In Version - 1.0 Stable Release:
| | |
| --- | --- |
| | Error support for a missing windows media player element has been fully fixed. |
| | A bug causing an invalid default path name to my music has now been resolved. |
| | Problems causing a crash after using the connection checker have been resolved. |
| | The ability to clear the login cache to fix certain errors has been added. |
| | The side tab can now be hidden by clicking not to show anything in the options. |
| | An animated dialog is shown when logging in to make the process look smoother. |
| | More support for internet connections has been added (T4, SDSL and Ethernet). |
| | Suite integration for when the auto updater and help centre are finished. |
| | Many miscellaneous bugs and errors in the program have been fixed and resolved. |
Version 1.00 Download Location - Network Installation - Express Setup